Fungo Mungo, Will Haven, Shaun Lopez (FAR), Greg Puciato (The Dillinger Escape Plan), Robert Trujillo (Metallica), Rocky George (Suicidal Tendencies), Dave Lombardo (Slayer), Daron Malakian (System of A Down), Alexi Laiho (Children of Bodom), John Dolmayan (System of A Down), Shavo Odadjian (System of A Down), Max Cavalera (Soulfly), Deftones and many more!
November 20, 2009 — Avalon: Hollywood, CA
Words/Photos/Videos by Karla Serrano
After witnessing night one of Chi Chengs benefit show I thought to myself, "There's no way in hell they could top this tomorrow night!" I was so wrong.
Fungo Mungo, and Will Haven opened up for the best show of 2009. Fungo Mungos set was no longer than 20-30 minutes, and the same for Will Haven. We did not wait very long for Deftones. After Will Havens last song you could feel the anxiety and anticipation in the room! I felt like I was waiting for a ticking time bomb to just blow up. When the lights went down and the music was turned off, I took a deep breath and grabbed on to the barricade for dear life. Deftones came on stage and opened up with, "Bored." The energy in that room was unbelievable! I felt like it was my first time at a Deftones show. After the fourth song I started to wonder when the special guests were going to appear on stage. For the fifth song, "Beware" Shaun Lopez joined Deftones. After "Beware" Greg Puciato, from The Dillinger Escape Plan joined Deftones to perform "Hexamgram." Chino and Greg are an amazing duo!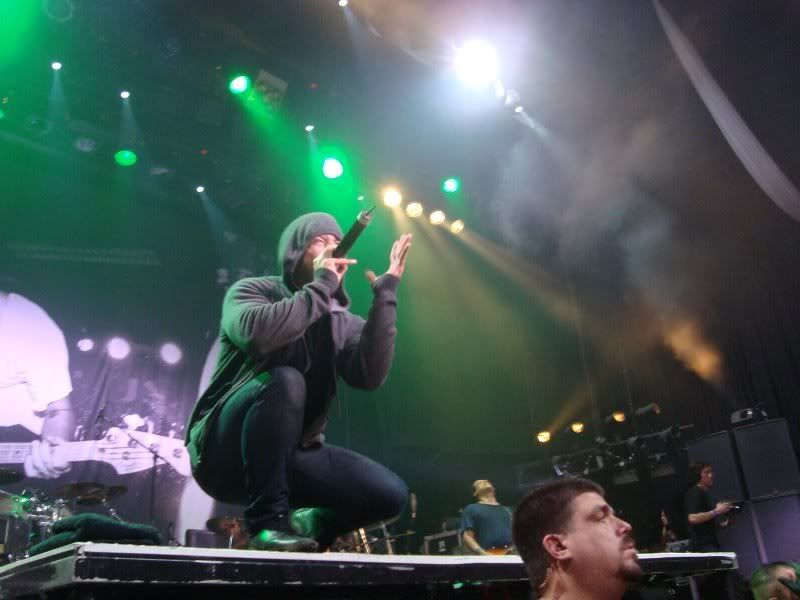 After Deftones finished performing "Root", I see a man with long hair and a pony tail walk on stage and waved at everyone. At first I didnt recognize his face because the lights were still low. Once the lights went on they started playing "Engine No. 9" and I look over and its ROBERT TRUJILLO from Metallica standing in front of my face! I couldn't believe it! Once the crowd noticed that it was him, they went nuts! Trujillo, that man had so much energy! It was amazing! After "Engine No. 9" that's when things started to get very interesting. The guys from Suicidal Tendencies joined the stage and Trujillo didn't go anywhere! They started playing "War Inside My Head." Watch it here!
Deftones – WAR INSIDE (W/Robert T. & Suicidal Tendencies)
After that epic performance, none of us were ready for what was going to happen next! All of a sudden the stage started to look smaller by the minute! More people started to join the stage.  Greg Puciato, Robert Trujillo, Dave Lombardo, Daron Malakian, Alexi Laiho, and others were on stage! Then, hell broke lose. They started playing "Battery."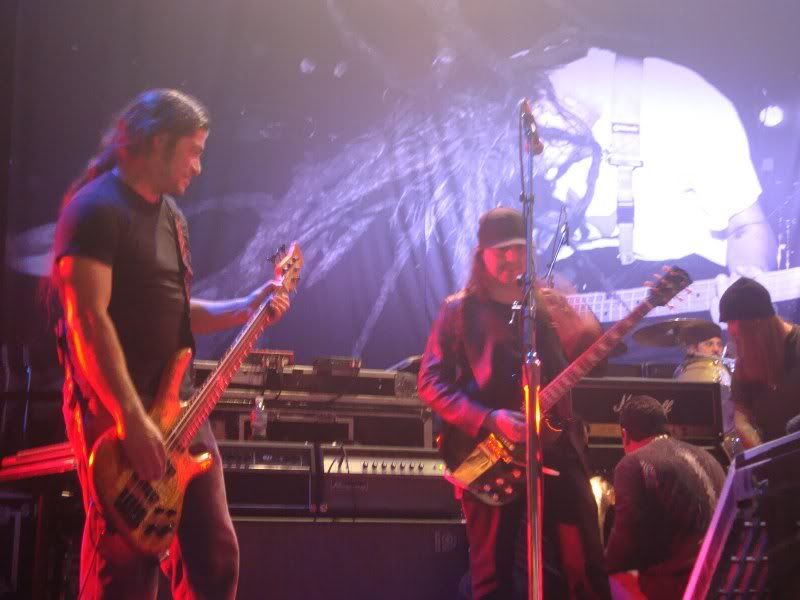 I couldnt believe what I was seeing! When Alexi played that first note, you could see Trujillos huge smile on his face! I knew this was going to be amazing! Greg and Chino did the vocals flawless! I have no more words to describe this melting pot of greatness! Here's the video.
Deftones – BATTERY (W/Robert T., Shavo Odadjian, Daron Malakian)
I thought that was the end of the show, it just felt like the appropriate way to end an epic show. I was wrong, once again! Everyone left the stage except for Deftones and Daron. Then John Dolmayan and Shavo Odadjian walk to the stage. Everyone in the crowd didnt know what to think or believe anymore! System of A Down (Except Serj) was on stage with Deftones! They performed "Aerials" and "Toxicity."
Deftones – Aerials (w/ Shavo Odadjian and Daron Malakian)
After "Toxicity" Chino said that they had one more song, and he thanked everyone for coming and supporting the cause. They played "7 Words." Everyone in the crowd gave it their all, they sang with every bit of last energy that they had left in their bodies! Once they were done with "7 Words" Deftones said their goodbyes and threw out picks and drumsticks. Security were telling us that it was time to go, to start heading towards the exit. As the pit started to losen up, Deftones ran back on stage with Max Cavalera and said that they had more song! The head security of the Avalon was in front of me and he looked irritated. Im sure "7 Words" was supposed to be the last song, and they randomly decided to play just one more song for us! They performed "Head Up" It was beyond epic!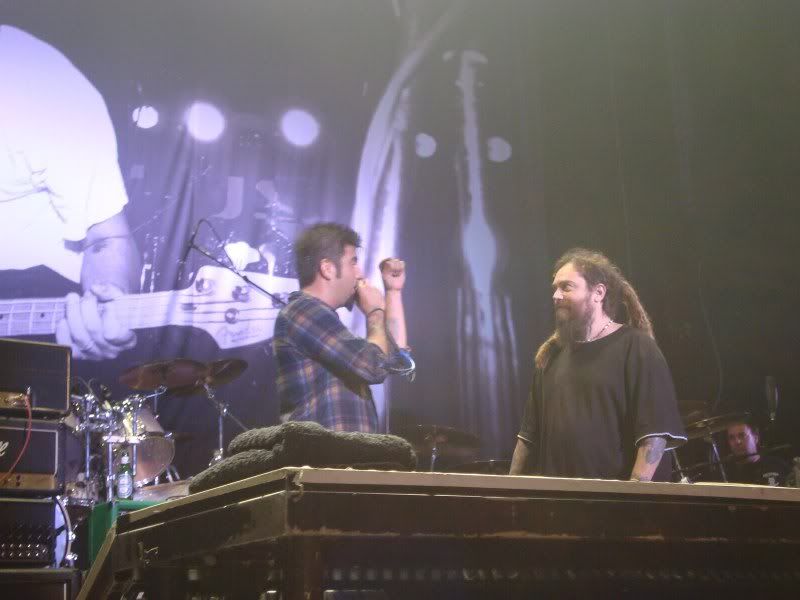 I felt more than lucky to be attend both of those shows. It was amazing to see all those artist come together for a great cause.
ONELOVEFORCHI!
Karluh05